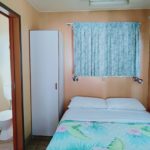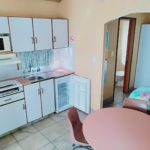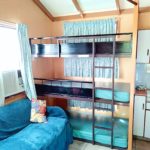 An air-conditioned en-suite holiday cabin with one room double beds and triple bunk beds .
Bathroom, shower, completed kitchenette with microwave,mini bar fridge, LCD TV ,ceiling fan.
Suitable for maximum two adults and three minor children.
Includes use of park facilities.
Minimum bookings during peak times may apply.
Ask us for a weekly special rate
Please contact us for weekly pricing as special rates will apply for longer stays. Prices are subject to change. 
Room service only available on request, fee will charge for cleaning and room service